Christmas cactus - Schlumbergera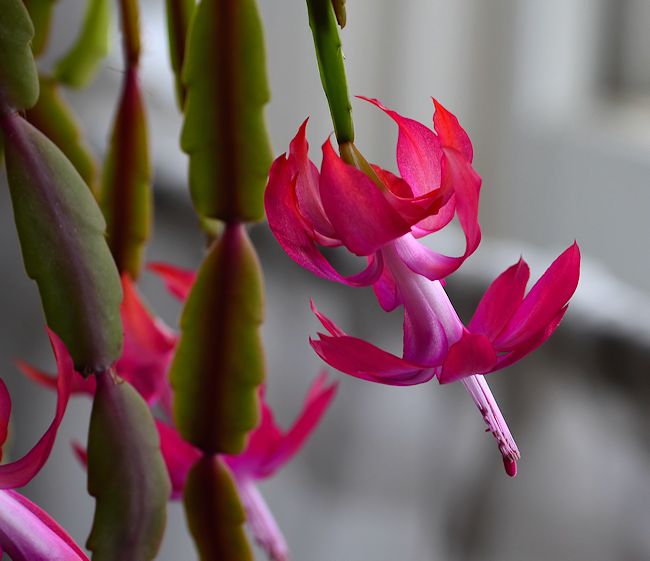 Christmas cactus - Schlumbergera is a plant we have had for years and with a little bit of care may last forever. Our plants have a little bit of sentimental history to them. Many years ago my uncle decided to pass on something from my grandmother to her grandchildren. He gave cuttings from a christmas cactus that had been my grandmothers'. She had passed away in 1961 so even at the time the cuttings were given to me the plant was quite old. We have grown several plants from those original cuttings. We still have two plants and have given many away to family and friends.

Christmas cactus grow best when pot bound, so try to keep them in not too big a pot. We water our plants about every two weeks, but if they feel damp we let them go until they get dry. We fertilize them once in early spring and once when the blooming starts with a blooming fertilizer. The only tip we use now for getting the Christmas cactus to bloom is not to water the plant in November at all. Let it dry out. We're usually rewarded with spectacular colored blooms from December through February and sometimes longer.

If and when Christmas cactus plants seem to be fading you can start a new plant by removing some of the leaf stems and placing them in water until they grow enough roots to be planted. Our advice is to grow a new plant rather than put the old plant into a larger pot because they just keep getting bigger and bigger. Some we have had really got to be quite large.