Sweet potato vine - Ipomoea batatas 'Sweet Caroline Sweetheart Purple' picture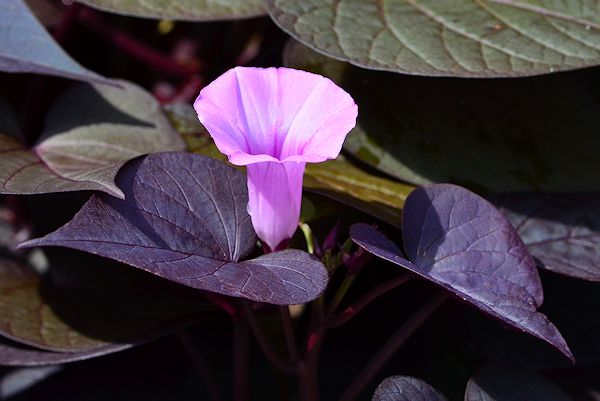 This sweet potato vine - Ipomea batatas 'Sweet Caroline Sweetheart Purple' picture was taken from our garden this past year, 2014. Ornamental sweet potato vines are great additions to your containers, hanging baskets and can be used as ground cover as well. We had our sweet potato vine in a hanging basket in part to full sun. It didn't seem to grow very fast early in the season but as we got into the summer the growth rate picked up. I don't think it started to bloom until some time in August.

When the season was over and we cleaned out the hanging basket we had a full size potato and some other small tubers. We have since learned we could have made cuttings and grown this plant indoors over the winter. I guess we probably could have overwintered the tubers also. This type of plant makes a great visual addition to your garden and comes in a variety of leaf variations and colors. I probably don't have to tell you we prefer purple.
| | |
| --- | --- |
| Plant Type - Trailing annual/perennial | Light - Part to full sun |
| Zones - 10 to 11 for perennial | Size - .5' to 1.5' |
| Bloom time - Summer | Tips - Can be grown inside in winter |