Hummingbird and cardinal climber, Ipomoea sloteri picture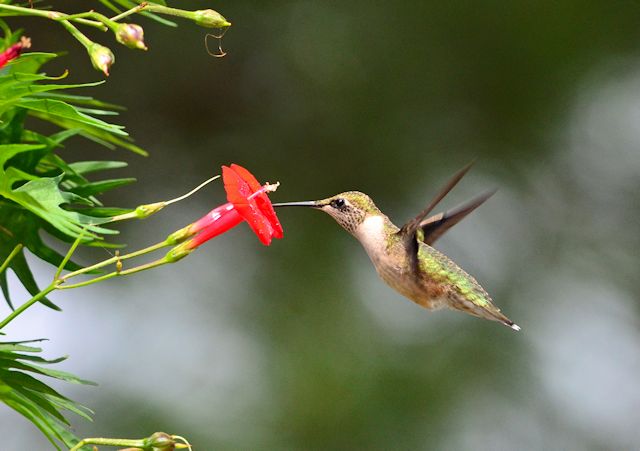 The above picture is a hummingbird feeding on a Cardinal climber, Ipomoea sloteri taken while we were sitting on our deck. We grow it in a large pot with a trellis that sits on our deck. A common name for this plant is cardinal climber. It's a hybrid of the cypress vine (Ipomea quamoclit) and the red morning glory (Ipomea coccinea).It grows best in evenly moist and well-draining soil. It will tolerate some shade but in our experience it grows best in full sun. You can start the seeds indoors early if you want. We have found they will quickly grow when planted outdoors when it warms up.We soak the seeds in water overnight. When planting make sure there's no threat of a frost. It grows best in hot, humid weather. Cool weather will cause it to grow slowly. The plant will produce lots of red, trumpet shaped flowers that definitely will attract hummingbirds.
Plant Type - Annual vine
Light - Full sun
Zones - 10 to 12
Size - 10' to 15' tall
1' wide
Bloom time - July through frost
Tips - Needs a trellis, arbor or other structure to climb.
Deer or rabbits may feed on them.