Purple clematis pictures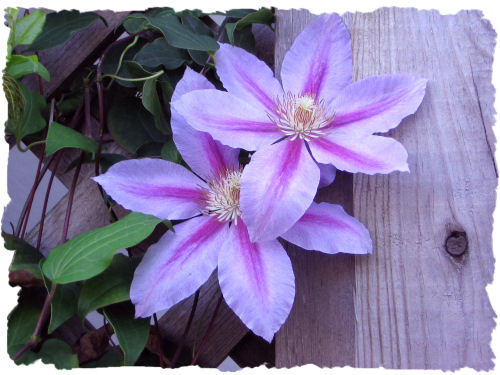 These purple clematis pictures were taken from a friend's home and from our garden. Clematis is one of the most beautiful climbing vines. I've seen them climbing on arbors, fences and trellises. One tip, I've heard a lot is to keep the roots protected from the sun with mulch. The flowers will benefit the best in a full sun location.
Plant Type - Vining perennial
Light - Full sun
Zones - 4 to 9
Size - 6' to 25'
Bloom time - Group 1 (A) Spring
Group 2 (B) Summer and Fall
Group 3 (C) Summer
Tips - Keep roots protected with mulch. Use thin wire mesh for support. Prune by group type
Pruning of the clematis -
Group 1 (A) - If necessary prune lightly after flowering and remove dead vines.
Group 2 (B) - Trim back lightly in late winter or early spring.
Group 3 (C) - Cut back to 6" to 12" above soil level in late winter.

Note - You don't have to prune your clematis but pruning will make your plant healthier and give you more blooms each year. When you purchase your clematis you should make note of what group it is in so you can take better care of the plant.